Learn from the Early Adopters at Parallels Summit 2013
Join us at Parallels Summit 2013 and learn from early adopters how two new Parallels products—Parallels Cloud Server and Parallels Plesk Automation–are helping them reduce costs, improve the performance of their VPS and cloud servers, and grow their business. Early adopters are a great source of information, tips, and tricks for working with new technologies. Learning from their experiences will increase your success in deploying these technologies, reducing both risk and time to market.
What Is Parallels Cloud Server?
Parallels Cloud Server is our next–generation virtualization solution for service providers. Combining our new Parallels Cloud Storage capability with the latest releases of Parallels Containers and Parallels Hypervisor, it gives you a complete solution for delivering high–performance, high–availability VPS and cloud servers.
What Is Parallels Plesk Automation?
Parallels Plesk Automation is a scalable, multi-server automation solution for shared hosting. Designed to centrally manage thousands of customers from a central point, it gives growing hosters a level of power, performance, and scalability previously available only to hosting giants. Parallels Plesk Automation features a modern design and exceptional usability, with a user interface that is already familiar to users of Parallels Plesk Panel.
Share this newsletter:
In this Newsletter:
Highlights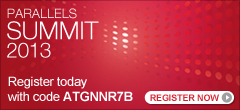 Register now and lock in the $189/night room rate. Hotel availability not guaranteed after January 18.
Latest News
Learn About the Latest Cloud Usage Trends for SMBs Around the World
Parallels is excited to announce that we'll be releasing our latest SMB Cloud Insights™ reports for the US, Brazil, Mexico, and global SMB markets at Parallels Summit 2013 (Las Vegas, February 4–6).
Over the past year, we have studied SMBs' year-over-year growth trends and evolving attitudes toward the cloud around the world, deepening our understanding of the SMB cloud market. At Parallels Summit 2013, we'll release our latest research reports for 14 countries around the world, as well as broader global and regional reports
The latest reports include deeper analysis into SMB markets, uncovering the specific features of cloud services such as IaaS, web hosting, hosted email, and SaaS that generate the most interest among SMBs, and providing guidelines on the best bundling and pricing strategies to target SMBs.
Register for Parallels Summit 2013 to be first to get access to the cutting-edge data in these brand-new 2013 reports—and to have the opportunity to attend exclusive sessions about our findings and how to apply them to your go-to-market strategies.
---
Calling All Developers—Parallels Summit Is for You, Too
APS 2.0 has officially made Parallels Automation a platform for integrating and delivering cloud services—and Parallels Summit 2013, in Las Vegas February 4–6, is the place where you can learn all about it.
APS 2.0 features include:
A pluggable Single Sign-on (SSO) framework for any security provider, including OpenID and OpenAuth.
A custom UI for richer user experiences within each service you offer.
A service bus architecture for simple and reusable service integration and resource management.
Parallels Summit will have a completely separate track and resource center where developers and ISVs can learn about APS 2.0 in depth. In addition to attending presentations, you'll be able to participate in hands-on labs and deep technical discussions with Parallels developers—including Michael Toutonghi, Parallels CTO.
Come and learn about APS 2.0, so you'll be prepared to be part of the next wave of application integration and delivery. For more information and to register, go here.
---
Play a Game of Chess with the #1 Ranked Player in the World
Parallels Summit 2013 is in Las Vegas – the gaming capital of the world – so we figured why not play some really serious games. What's more serious than chess? So we're bringing in Magnus Carlsen - the #1 ranked chess player in the world. Magnus will be at the reception playing simultaneous chess against multiple Parallels Summit attendees. Who knows, you might get a chance to say you lost a game of chess to the best player in the world.
We'll do a drawing to pick the multiple players for the chess game. If you want to be included in the drawing send us an email by January 31, 2013 with your name, company name and email address. Those picked in the drawing will be notified in advance of Parallels Summit. Participants will get to keep the chess sets used during the tournament and each will be autographed by the very own Magnus Carlsen.
Note: You must be registered for Parallels Summit 2013 in order to be included in the drawing.
---
Parallels Business Automation Standard Roadmap Track
Learn how to extend your product range and grow your hosting business faster with Parallels Business Automation Standard and new add-ons coming in 2013. Join Parallels Business Automation Standard experts to learn how to accelerate your business with new additions: Parallels Plesk Automation and Parallels Cloud Server.
Alex Goncharov, Sr. Director, Parallels Business Automation Standard, Product Marketing and Victor Batraev, Parallels Business Automation Standard, Program Manager will also provide a view into how we'll be enhancing the capabilities of the Parallels Business Automation Standard in the coming years.
Parallels Business Automation Standard roadmap session will be held during Parallels Summit 2013 in Las Vegas on Wednesday, February 6, 2013 from 10:45 am – 11:45 am.
Case Studies
Netclusive Grows and Diversifies its Business Based on Parallels Automation
Parallels Automation empowers German web hosting provider netclusive to blaze a trail by enabling Value Added Resellers and Systems Integrators to sell cloud-based services. Read the full case study.
Parallels Business Automation Standard Enables Hispaweb to Diversify and Grow its Business
Hispaweb selected Parallels Business Automation Standard to automate its operations and billing and help it manage the other Parallels products that it uses—Parallels Plesk Panel and Parallels Virtuozzo Containers.
LuxCloud Uses Parallels Automation and the Application Packaging Standard to Innovate and Grow with Unique Cloud-Based Services
LuxCloud, part of the Luxembourg-based DCL Group, is using Parallels Automation and the Application Packaging Standard to deliver a unique cloud-based desktop computing environment for resale by its own channel partners, and those of other service providers around the world.
Ride Wins Over G-quest with Enhanced Service Stability and Superior Customer Support
G-quest decided to switch to a web hosting service provided by Ride. Powered by Parallels Automation, Ride was able to deliver enhanced service stability and proactive call center support at cost effective rates. The value-added Parallels Plesk Panel also empowered end users at G-quest with self-service capabilities for greater business flexibility.
News from Support
New Parallels Support Webform
We've redesigned the Parallels Support Webform for Parallels Automation products. Based on customer feedback, we've made the following improvements:
We've added different process flows for different types of requests (technical issues, technical questions, feature requests, etc.).
The system now suggests possible solutions based on the problem description, without the need for customer authentication.
The new statistics–collecting engine is more detailed and user-friendly. It lets the support team see which solutions were suggested for a particular problem and which ones were viewed. We regularly analyze these statistics in order to continually improve support resources for our customers.
---
Tips and Tricks from Parallels Global Support