HIGHLIGHTS FROM PARALLELS SUMMIT 2013
Last week 1,200 people from the cloud and hosting community gathered in Las Vegas for Parallels Summit 2013. It was an action-packed event featuring announcements of new products and services, networking events where valuable connections were made, inspirational and thought-provoking keynotes from Parallels CEO, Birger Steen; Principal Analyst, Forrester Research, Tim Harmon; Sr. Executive, Pivotal Initiative, EMC/VMware, Tod Nielsen; Executive Chairman of the Board and Chief Architect, Parallels, Serguei Beloussov and much more.
Congratulations to all the winners of the 2012 Parallels Partner Awards! The award winners were partners who made the best use of the assets Parallels provides, with special attention given to those partners who have innovated and been able to differentiate themselves and stand out in the rapidly-expanding and ever changing small and medium business (SMB) cloud services market. See who walked away with an award this year!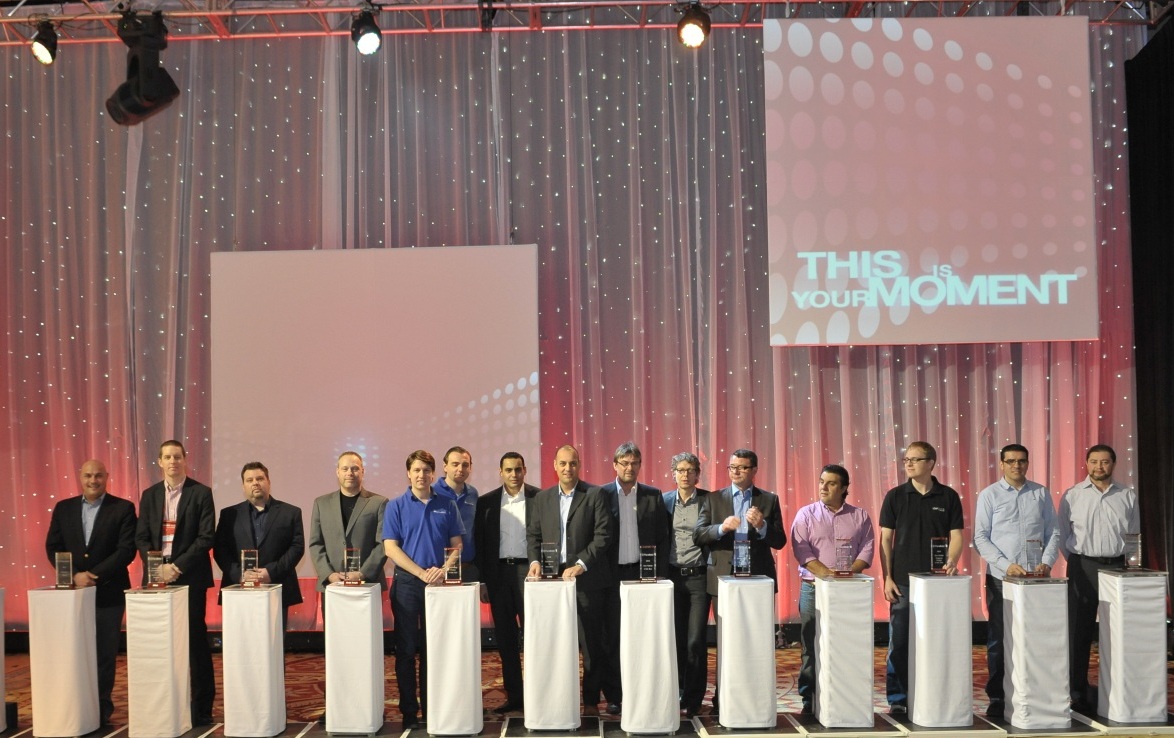 Below is a compilation of all the great new products and services Parallels announced at Parallels Summit 2013 that enable hosting providers and cloud services developers to really kick up the momentum and answer their customers' business needs.
For those of you that missed Parallels Summit 2013 or would like to re-experience it again, we will be posting the presentations and videos in the next couple weeks.
Many moments were captured at Parallels Summit 2013 – for a look at some of those moments you can go here to check them out.
During our closing reception we announced the location for Parallels Summit 2014. Drumroll please... it's famous for Bourbon Street, The French Quarter, creole cuisine and beignets, and was named by Fodor's as one of the top 25 places to visit in 2013 – New Orleans! Parallels Summit 2014 will be taking place February 24-26, 2014 at the Hyatt Regency New Orleans!
Share this newsletter:
In this Newsletter:
Highlights
Download the 2013 SMB Cloud Insights™ Reports

Our latest research reports include worldwide market sizing, forecast, and penetration rates of SMB cloud services, along with country-level breakouts for the United States, Brazil, and Mexico. Gather the insights you need to grow your cloud service portfolio in 2013.
Get the reports now.
Events:
Join us at WHD.global 2013
Parallels is a Diamond sponsor for WHD.global 2013 at Europa-Park in Rust, March 19-21, and we would like to give you free access. For more information and free registration, use code G6SKTZ26 and register here.
Latest News
SMBs Looking to Service Providers for a Wide Range of Bundled Cloud Services
Findings show that web hosting, email, security and backup are must haves in any SMB cloud offering, and that SMBs have a strong desire to purchase additional business applications.
Read the full press release.
---
Looking for APS Beta Recruits
Calling all developers: here's your chance to learn first-hand how to build and deploy APS 2.0 packages with a focus on user experience and service integration. As an APS beta recruit, you'll be able to get your hands dirty with APS 2.0 beta code, developing your own packages that will be ready for certification at launch.
Learn how APS 2.0 creates building blocks for pluggable solutions, using:
The APS service bus for actions such as enabling cross-selling and upselling, discovering existing services, communicating between services, discovering dependencies between services, and sending notifications to other services.
A pluggable single sign-on to enable users to use one login for several applications.
HTML5 to extend the user interface for control panel applications.
The APS 2.x controller specification for a standards based approach for other service delivery platform providers to leverage.
To participate, apply today, providing details about the problem you want to solve with APS 2.0. If you qualify, we'll invite you to the APS 2.0 beta kickoff, an online event that includes technical training with APS engineers and architects, an APS 2.0/Parallels Automation 5.5 hands-on-lab, and a sandbox with server access. You'll have a chance to develop using APS 2.0 beta code and receive an early release of the production code – plus you'll have beta support and regular checkpoints to help you address any development questions that come up.
Cloud Services Developers Apply Now to the PA 5.5 APS 2.0 Beta.
---
Visit Parallels and IBM to Learn About Our Joint Smart Cloud Services Solution
Parallels has teamed up with IBM to provide a unique solution that optimizes cloud service delivery using a combination of Parallels Automation, the APS ecosystem of services, IBM's Cast Iron, and IBM's SmartCloud Enterprise.
The jointly developed solution delivers everything cloud service providers need to amplify their presence in the cloud marketplace, reduce the cost of retaining customers, quickly deploy and promote proven revenue-generating services, and effectively differentiate themselves from their competitors. It combines the innovative Parallels Automation software platform with a market-leading cloud integration technology from IBM. The software is complemented by IBM's unmatched expertise in complex systems integration, cloud solutions, and program management, which helps to mitigate risk and improve outcomes.
Parallels and IBM will showcase the joint solution at Mobile World Congress. Be sure to drop by the IBM booth (Hall 3, #3B86) in February to see a demo and learn how you can participate in this solution.
For more information, go here or email mwc@parallels.com to set up a time to tour the IBM booth and see the joint solution in action, hosted in IBM's datacenter environment.
---
Join Us at WHD.global 2013 on March 19–21
WHD.global 2013 is a must-attend event if you want to discover the very latest business opportunities in web hosting – and Parallels will be center-stage. Parallels is a Diamond sponsor for WHD.global 2013 at Europa–Park in Rust, March 19–21, and we would like to give you free access. So join us for:
Thought-provoking keynote presentations from senior Parallels executives. Parallels CEO Birger Steen will be speaking on "Next–Generation Solutions for the Next-Generation Cloud," and Parallels President Jack Zubarev will share how you can "Get the Most Out of the Parallels Products You Have and See What's Next."
Insightful and interactive sessions on the hottest web hosting topics and the very latest Parallels solutions.
Live demonstrations of the latest Parallels solutions.
If you would like to arrange a meeting with Parallels at the event, please send an email to: MeetingsWHD@parallels.com. We look forward to meeting you in person!
For more information and free registration, go here and use the following code: G6SKTZ26.
Product Updates
Parallels Presence Builder 11.1 Preview
Craig Bartholomew, Parallels VP of Panel Products, provides a quick overview on what you can expect in Parallels Presence Builder 11.1. Check it out.
Parallels Business Automation Standard Online Store (Beta) Available for Evaluation
At Parallels, we're always searching for fresh approaches that will help us create best-of-breed solutions. We test our products thoroughly in our own labs before releasing them, but we also need feedback from you, our partners, to ensure that our solutions meet your expectations.
That's why we look to you to help us kick the tires of our latest preproduction solutions by testing them in your own environment. Your real–world experience is vital to the success of our products.
Please review our demo installation of the new Parallels Business Automation Standard Online Store 4.3 (beta). This demo installation is updated to the latest build on a regular basis and has no customization applied. You can use it to track our development progress and to see the latest features we've implemented. An overview and download instructions are available on PartnerNet portal.
Please help us by evaluating the beta release of Parallels Business Automation Standard Online Store 4.3 and sharing your feedback with us. By participating and providing feedback you'll have the satisfaction of knowing that you contributed directly to making our product better.
Get the Latest on Parallels Plesk Automation 11.1
The premier multi-server web hosting solution for your growing web hosting needs just got even better. Get the latest news on Parallels Plesk Automation 11.1 – check out the recently released home page and datasheet and the updated Technical Frequently Asked Questions, to get your top questions answered. Also, recently released micro-updates #4 and #5 for Parallels Plesk Automation 11.1 provide new much-sought capabilities. For example:
Micro-update #4 includes support for:

SmarterMail, supporting popular and cost–effective Exchange–level email server software.
Microsoft SQL Server 2008, automating SQL Server 2008 installations as well as registering existing servers.
Diagnostic tools, aiding administrators in troubleshooting issues that involve connecting service nodes to the management node.
For details on this micro-update, please read the release notes.
Micro-update #5 includes support for:

Moving services between Apache and MySQL service nodes. For instructions on installing and configuring the tool, look here.
Managing the DNS template. Now administrators can customize the structure of the DNS template.
Managing spam filter settings. Administrators can now manage the settings of the SpamAssassin spam filter.
Managing application settings. Administrators can now manage the global settings of APS packages.
New service node roles.The following combined types of service node roles are now supported: Apache web server + Postfix mail server + MySQL database server; Apache web server + Postfix mail server + MySQL database server + PostgreSQL database server; IIS web server + MS SQL Server 2008 database server.
Instructions on applying the updates for Parallels Plesk Automation are available here. For details on this micro–update, view the release notes.
Case Studies

ServInt Saves Money, Gains Flexibility and Scalability with Parallels Cloud Server
ServInt saves money, gains flexibility and scalability with Parallels Cloud Server.
Read the full case study.

AXARnet Reduces Costs, Enhances Performance and Modernizes its Business with Parallels Cloud Server
AXARnet reduces costs, enhance performance and modernizes its business with Parallels Cloud Server.
Read the full case study.
Partner Resources
Get Growing with Parallels Plesk Panel
Integrated products from Parallels, such as website building tools and antivirus and antispam utilities, provide you with additional revenue-generating opportunities – so building consumer preference for Parallels Plesk Panel and related Parallels products can help you grow your business.
Now Parallels is making such growth easier with our new Get Growing with Parallels Plesk Panel – Marketing Resource Center. The center provides a wealth of resources to help you position, promote, and evaluate Parallels Plesk Panel on your own website. These include product messaging texts, promotional banners, data sheets, logos, ready-to-use and customizable point-of-purchase brochures, a hands-on demo integration guide, best practices white papers, and more. The resource center will help you learn more about Parallels Plesk Panel and related add-ons, get to market quickly with ready-to-use marketing resources, and grow your revenues with integrated add-on products. So check it out here – and get growing with Parallels Plesk Panel.
News from Support
Tips and tricks
Learn How Parallels Plesk Panel 11 Supports ASP.NET 4.5.
Find Out How to Automate Both Operating System and Application Updates in Parallels Virtuozzo Containers for Windows.